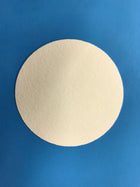 Description
The Accudisk™ Grade TSS PreWashed filters are washed and rinsed under vacuum then dried per the requirement of Standard Method 2540D (TSS).
These filters are binderless glass microfiber filter with a fine porosity, fast flow rate, with a 1.5μm size particle retention. Ideally suited for determination Total Suspended Solids (TSS). 
Note: These filters can also be used for Total Disolved Solids (TDS).
These are packaged 100 filters per box with a material lot number on the label for traceability
If you have additional questions or want to place an order please call 978-702-9591 or email: orders@ssiproducts.com