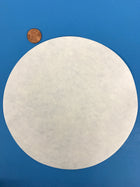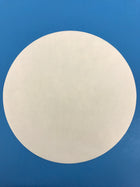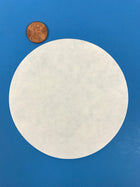 Description
If you have additional questions or want to place an order please call 978-702-9591 or email: orders@ssiproducts.com
Quantitative cellulose filter papers are primarily used in gravimetric analysis procedures and perform separations by entrapping particulate within the random matrix of cellulose fibers within the depth of the media. This media family is also widely used in methods to prepare samples for further testing using many types of instrumentation. These ashless filter papers are manufactured from refined pulp and linters. They are acid washed and have an extremely low ash content of <0.01%.  See below for a more detailed description for each grade type.

CFP40: Flow Rate: Medium, Retention: 8µm. Demonstrating medium retention and flow rates, this media is widely used in many general quantitative procedures in both liquid and gas.  
CFP41: Flow Rate: Fast, Retention: 20µm. Very fast flow rates and loose retention characteristics make this grade ideal for initial separation of gelatinous precipitates. 

CFP42: Flow Rate: Slow, Retention: 2.5µm. This media demonstrates an extremely high retention rate for a cellulose filter media. Its uniquely high retention rate makes it ideal for any gravimetric analysis of very fine precipitates.

CFP43: Flow Rate: Medium, Retention: 15 - 17µm. Positioned as an intermediate within the quantitative cellulose family, this grade demonstrates medium retention and flow rates. It is ideal for gravimetric analysis of soil samples, surface water testing procedures, and used in air sample monitoring equipment.

CFP44: Flow Rate: Slow, Retention:3µm. Very similar to CFP42, but demonstrating a slightly wider retention rate with a similar flow rate. Typically used in sample analysis requiring separation of very fine precipitates.